The Teaching of Reading
---
Reading
The development of language skills through reading and speaking is central to all curriculum areas. From the start of school pupils are taught phonics through Essential Letters and Sounds. This is taught rigorously with fidelity to the scheme. Reading books match the teaching in class.
We have invested in up-to-date class sets of books which reflect all cultures in the school. These are used for the development of reading and writing. Whole class sets of books are allocated to each class and are brought home to read with parents. In Key Stage 2, for example, pupils read Shadow by Michael Morpurgo. They learn the plight of an asylum seeker and write letters to an MP based on the story. The high-level vocabulary (Tier 2 and tier 3) encountered in the story provides an opportunity for extended discussion and thesaurus work. The books are chosen to reflect the diversity of our school culture and also to extend language. Word study and reading comprehension is integral to the process.
A love of reading is developed through individual books, books read to the class and through the school library. (see purpose-built library)
Pupils read independently every day in school. There are opportunities for all pupils to read to a teacher.
Home-school reading and use of the reading diary is central to the process. Pupils are expected to read for 20 minutes at least three times a week at home and parents and pupils record in the diary.
Download Reading Policy
Reading At Home With Parents Guidance 1
Reading At Home With Parents Guidance 2
Recommended Reads for October and November
Book Corners
Each classroom has a stimulating book corner. Pupils can access a range of high-quality texts.
Library
Librarians promote books and keep the library tidy. They arrange challenges and promote books to classes.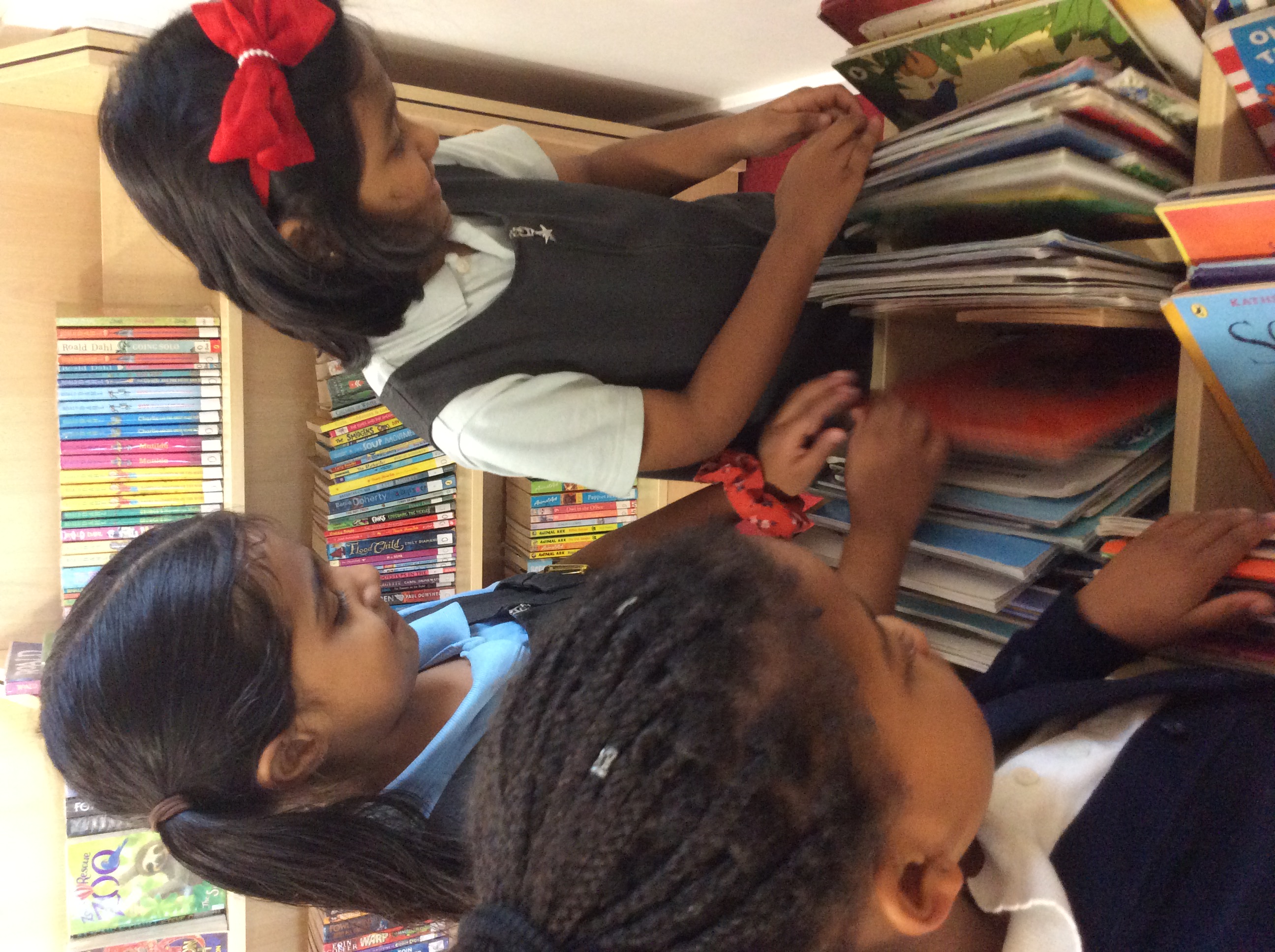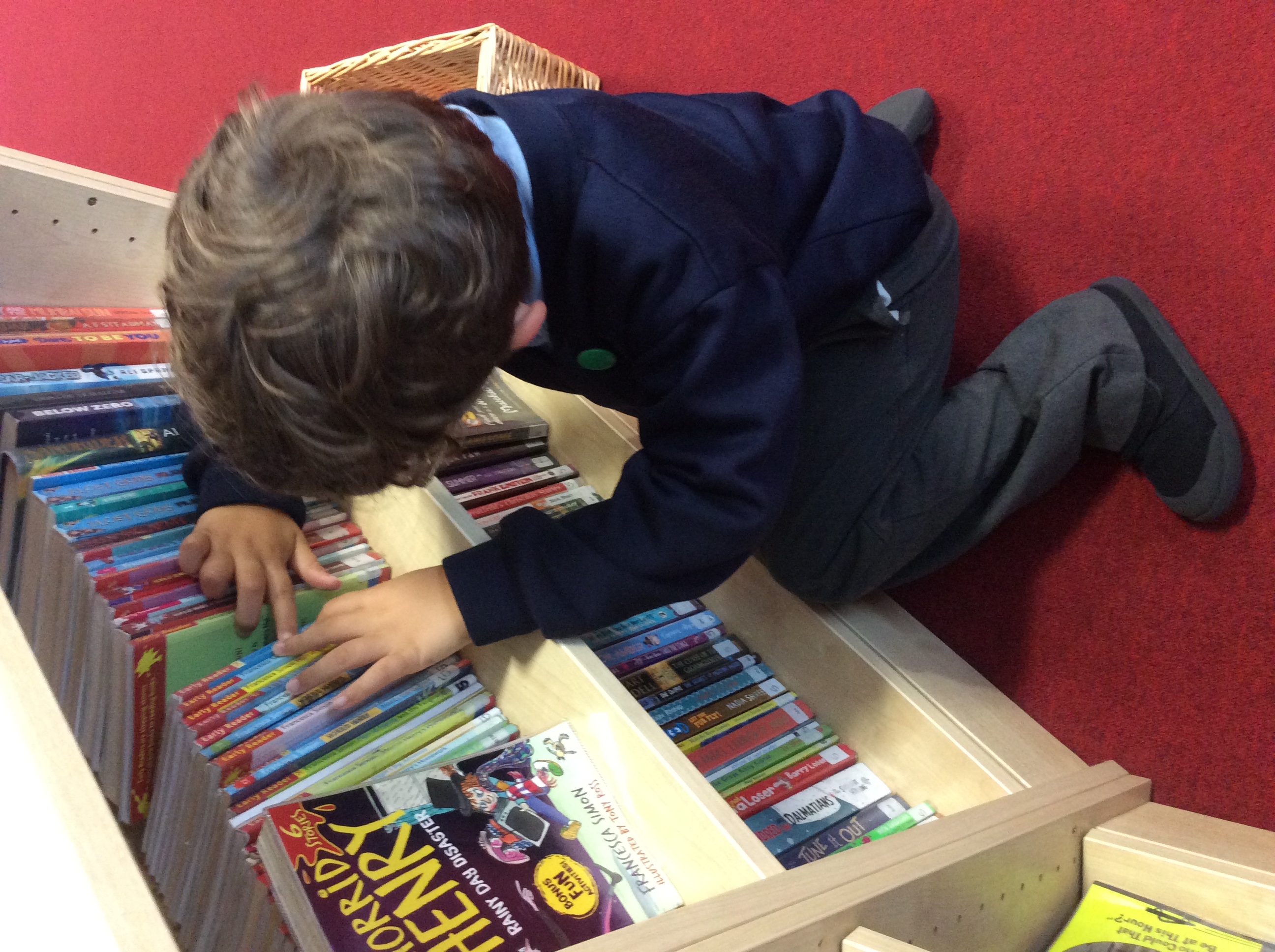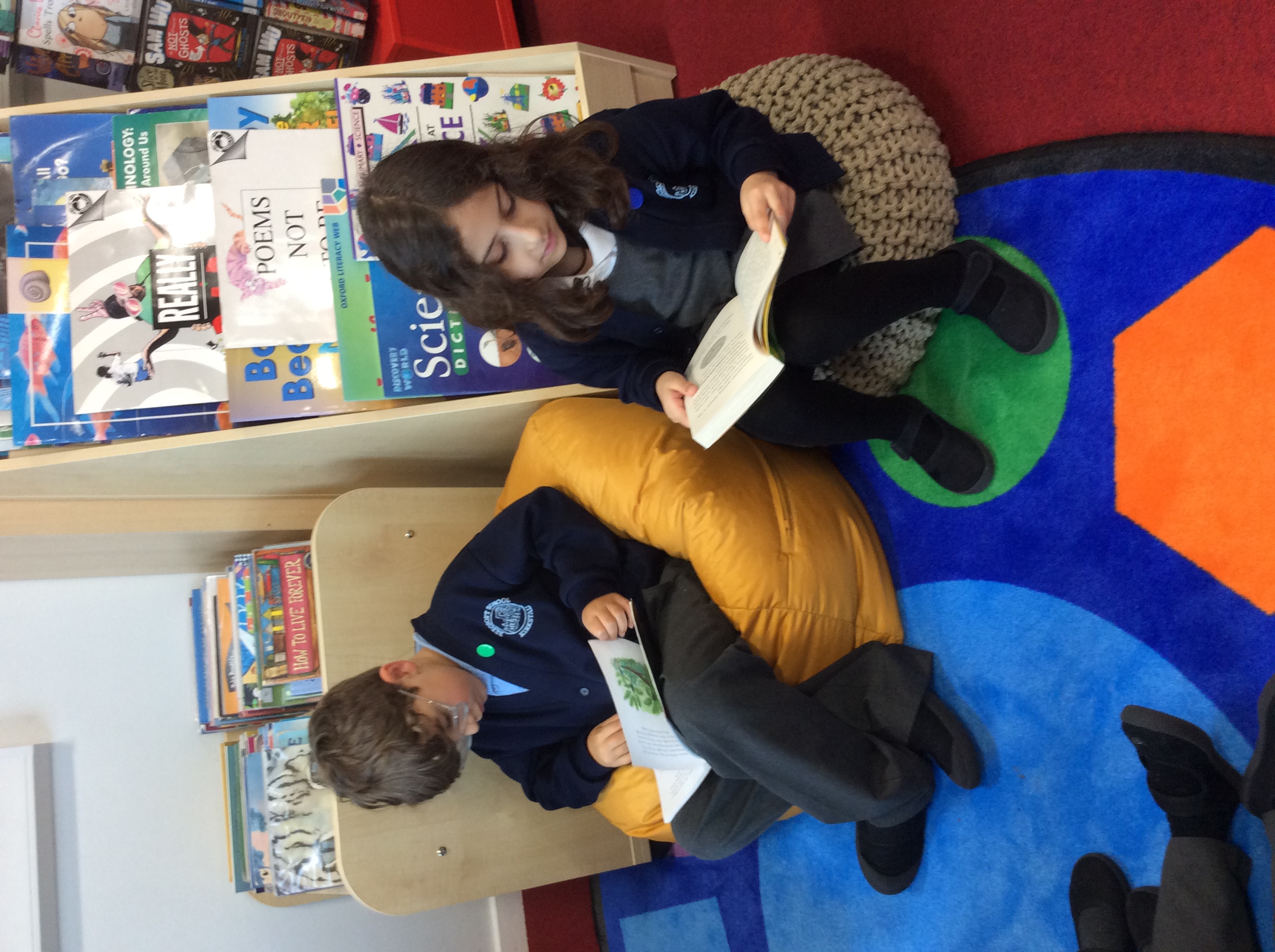 Early Reading And Phonics
Download Early Reading Policy
We want our children to become fluent and engaged readers with a love of reading. Reading is taught through repetitive, systematic synthetic phonics and the development of language comprehension through carefully chosen, language-rich texts.
Phonics is a way of teaching children how to read and write. It teaches children the relationship between the sounds they can hear and say (phonemes) and the written sounds (graphemes). We call this 'Grapheme Phoneme Correspondence' (GPC.) Children are taught to blend the sounds of letters together to read words (c-a-t = cat). Children are also taught to read common, non-decodable 'harder to read and spell' words by sight such as was, my, the.
The teaching of phonics begins in Nursery and continues throughout the Foundation Stage and Key Stage 1. We teach phonics in the Foundation Stage and Key Stage 1 using the systematic, synthetic phonics scheme, Essential Letters and Sounds.
Reception and Key Stage 1 teach whole-class phonics twice daily; the main lesson in the morning and a shorter, revision lesson in the afternoon. Phonics is also incorporated into lessons across the curriculum, throughout the school day.
At the end of year 1, children are asked to demonstrate their phonics knowledge in the Phonics Screening Check. Within this assessment children are asked to read a combination of real and alien (made up) words.
Phonics Phases
Using the Essential Letters and Sounds phonics scheme, teachers follow a clear term by term progression of skills. GPC's and harder to read and spell words are taught and reviewed systematically, with rigour and repetition.
Phonics is taught through a series of phases.
Nursery
Phase 1 is covered in Nursery and focuses on seven aspects to develop speaking and listening skills:
environmental sounds
instrumental sounds
body percussion
rhythm and rhyme
alliteration
voice sounds
oral blending and segmenting
Phase 2 letters and their sounds, such as s-a-t-p, are gradually introduced from the spring term.
Reception
Phases 2 and 3 are taught in Reception during the autumn and spring term. A range of letters and their sounds are taught, gradually increasing in difficulty to two letter sounds (digraphs- ch chip) and three letter sounds (trigraphs- ear fear).
Phases 4 and 5 are then focussed on in the summer term with continual revision of previous phases. In Phase 4, children learn to read and spell words which have adjacent consonants such as trap, string, milk. In Phase 5, children learn sounds with alternative spellings- ai, ay, a-e.
Key Stage 1
In Key Stage 1, children continue to focus on Phase 5 and alternative spellings for previously taught sounds with revision of Phase 2, Phase 3 and Phase 4.
Decodable Books
Phonetically decodable books are sent home weekly for children to read and are carefully matched to the child's phonic knowledge and ability. Parents are expected to listen to their child read at least three times a week and record progress in their child's reading diary. The children also read the decodable books throughout the week in school through guided reading groups and individual reading sessions. Children are provided with a range of texts including fiction, non-fiction and traditional tales.
Resources
Download Essential Letters And Sounds Parent Presentation
Grapheme-Sheet-Phase-2
Grapheme-Sheet-Phase-3
Grapheme-Sheet-Phase-5
Essential Letters And Sounds Phase 2
Essential Letters And Sounds Phase 3

Writing
High quality writing permeates the whole school. There is a clear process which is taught consistently from Reception to Year 6. Much of the writing is based on whole class texts which are chosen because they provide opportunities to explore and learn new vocabulary. Pupils learn the process of writing – how to plan, draft, revise and proofread their work. Pupils write extensively, using the English writing approach, across all areas of the curriculum and learn the ingredients of each genre. They write non-chronological reports in geography and science, explanations, letters, descriptions instructions and stories. Pupils learn how to write for different audiences and purposes. Extended writing enables pupils to use the new vocabulary that they are learning. Grammar is taught within so that by Year 6 pupils are writing using advanced grammar and punctuation. Real books also provide the means for learning grammar and punctuation. Discreet lessons also ensure that the skills are embedded
Handwriting is taught through the school's own approach and for final work pupils use a fountain or cartridge pen from Year 3. (all pupils from the start)